Forbes India has released the list of top 100 celebrities and since the magazine was launched in 2008, the fortnight edition disclosing top Indian celebrities has become the most awaited Indian magazine. India being a country in which cricket and Bollywood are considered the most favoured modes of 'entertainment', members from the both the industries have dominated this list since the dawn of time.
Salman Khan has topped the list with Rs 270.3 crore in earnings and third fame rank in the list, all thanks to movies like Prem Ratan Dhan Payo and Aditya Chopra-produced Sultan. Further his earnings constitute 9.84% of the total wealth of all 100 celebrities. Being third on the fame ranking and earning 221.8 cores in 2016, Shahrukh Khan clinched the second spot.
Noticeably, there hasn't been a single year when either Salman Khan or SRK have not occupied the No.1 spot, however, the other member of the trinity, Aamir Khan was not included in the top 10 for the first time and had to do with 12th rank.
Virat Kohli, the indisputable champion of fame, occupied the 3rd rank with Rs 134.4 Cr in earnings and being the most famous celebrity in the list. This is the first time Virat Kohli has claimed No. 1 fame rank in Forbes India top 100 celebrities list and why not? Since he has taken the skipper cap, Virat Kohli has led his team to many victories and within a short time frame, he has registered himself in the list of most successful captains ever. Due to his unconditional performances, endorsements were bound to line up in front of him.
Deepika Padukone is the highest ranked female celebrity with Rs 69.8 cr in earnings and this didn't come as a shock to us. The Ram-Leela fame actress has several projects under her belt including her Hollywood debut opposite Vin Diesel in XXX.
MS Dhoni and Akshay Kumar constitute the top five while celebrated comedian Kapil Sharma clinched the 11th position.
Here is the list of Forbes India Top 100 Celebrities: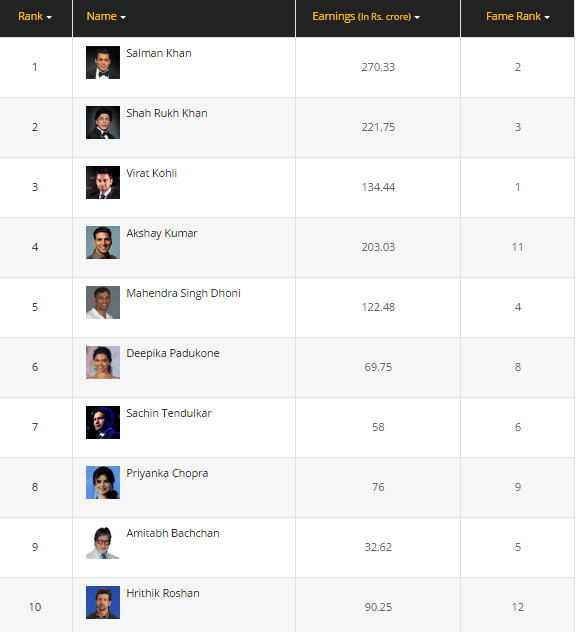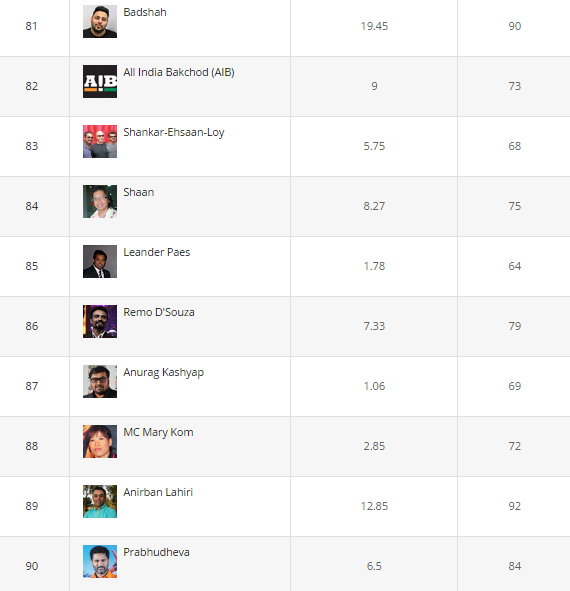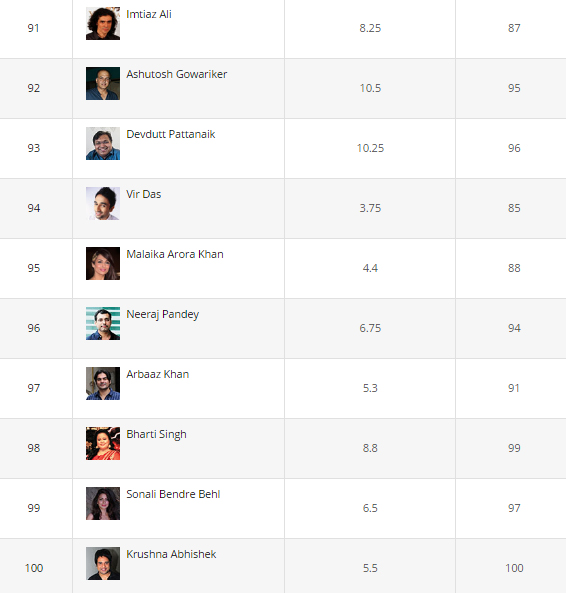 ( Courtesy: Forbes India )
Follow us on Facebook, Twitter and Instagram for more updates. Don't forget to like and share. Do tell us your views in the comment box below.
23 December 2016
Rohan Jaitly