In the realm of Bollywood, there are stars, superstars and, acting legends. But one's not really sure where to put Bobby Deol. He's been there for a while now and not done yet. The star of many acclaimed Bollywood hits, such as Badal, Barsaat, Bichhoo has been around for nearly two and a half decades.
His career may not be a high flying one. It may not have the emerald-studded blockbusters that grace other shinier resumes such as those in the ebb of Aamir Khan, Salman Khan, Shah Rukh Khan or Akshay Kumar.
But Bobby Deol's innate goodness, simplicity and style have made him an earnest actor. There's an immediate likeability about the handsome son of the superstar Dharmendra, a living legend. After nearly a half a decade-long hiatus, did one see Bobby Deol recently. He was alongside Salman Khan in what was supposed to have been a mega box office attraction, another "bhai-starrer" action-adventure. But Race 3 actually lost the race against relevance on the box office.
It hardly had anything to rave about. Surely, there must have been many a broken hearts. Salman Khan would not have been pleased, you could say for sure. But despite the crushing reviews, Bobby Deol, among the most hard-working actors around, was admired for his suave on the screen. In dark glasses, stylish jackets and, trendy leathery trousers, he cut a very dude-like persona. It also helped that the stylish Deol dropped a few kilos and re-engineered his look for the role in Race 3.
You could say, the critics didn't pan Bobby Deol. He was quite close to being the eye candy he'd been in his previous Bollywood releases, circa the movies at the time of Soldier (1998). And now, it seems that there's something good that has worked out for the charming actor despite the snubbing of Race 3.
Unveiling his latest sweltering purchase- an iconic SUV- Bobby was seen posing next to a whopping Suv, the very stylish if not the slick, Range Rover Sport. Dressed in easy casuals, a blue T with his reformed biceps and white shorts, completing the laidback look with a cap, the younger Deol was proudly clicked next to his latest grand purchase.
Buying the 3.0 litre diesel variant of the Range Rover Sport- given Bobby Deol's penchant for sporty, grungier toys, it seems to have all panned out pretty well for the actor. That said, the Deol isn't the only actor who has been spotted around in the unique sports variant of the legendary Range Rover.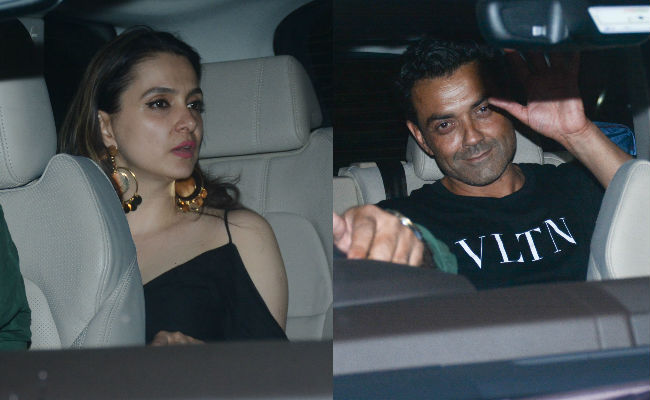 The other actors who own the said car happen to be the superstar Shah Rukh Khan and, arguably, the finest actress of contemporary Bollywood- Alia Bhatt. It's believed that Bobby collected a hefty pay-cheque following his part in the recently danked Bollywood flick- Race 3. And that the collections, therefore, spurred him with the financial bandwidth to make a rather exorbitant purchase.
Of course, it's not a surprise that for quite some time now, Bobby Deol has been left out in the cold, arguably, having run out of flavour with many film-makers. Some of his finest Bollywood work, however, has come under the auspices of iconic thriller movie-makers Abbas-Mustan. Although, Race 3 was directed by Remo D'Souza and produced by Ramesh Taurani.
One certainly hopes that in the coming months, we will be able to see a lot more of Bobby Deol than what we've currently seen. There's also excitement building for the second instalment of the Yamla Paglaa Deewana series, with a second part slated to hit the theatres soon.
But, back to Bobby's car, there are few automobiles out there that are as loaded and geared with a distinct range of features as the burly Range Rover Sport.
Range Rover Sport SUV is powered by 3.0-litre SDV6 engine that produces maximum power of 289 Bhp and churns out 289 Nm of peak torque. The engine is mated 8-speed automatic transmission. The SUV has a claimed top speed of 210 Km/h.