If you happen to type in the phrase "Best Bollywood actors ever" in the search engine, then chances are, nearly all lists attributed to the famous Indian film industry would reveal a  common name. Paresh Rawal.
He is a permanent bookmark in an illustrious book of acting legends. In other words, if the veteran actor could ever be expressed in a literary form then Paresh Rawal would be a book called 'near perfection in acting.' What else could possibly suffice?
To say that Paresh Rawal is an actor par excellence would be putting the truth out there rather abruptly. To say that Paresh Rawal is among the greatest actors Bollywood has produced would be to suggest something common and well understood.
But to state that there's an actor amidst the long-standing list of legends- Amitabh Bachchan, Balraj Sahni, Naseeruddin Shah, Om Puri, Anupam Kher, Manoj Bajpai, Ifran Khan, Anu Kapoor- who is liked both by his contemporaries and even those who possess the faintest knowledge about Indian cinema then it would have to be Paresh Rawal.
Every movie that this great thespian of film-world does and every role he challenges himself to do carries an instance of surprise and a fabric of great excitement. You just don't seem to know what next might the 68-year-old actor be directing his energies to. You don't know for certain what we may come up against in a movie that has Paresh Rawal as among its lead star cast.
As exciting as he is wild, as funny as he is intense, perhaps India got a measured answer of the term synonym in an actor that uplifts the cinematic canvass immersing himself in a wide array of work that has stood the tests of time. And may continue to do so in the times to come.
Which are the 5 best movie roles of Paresh Rawal
Sardar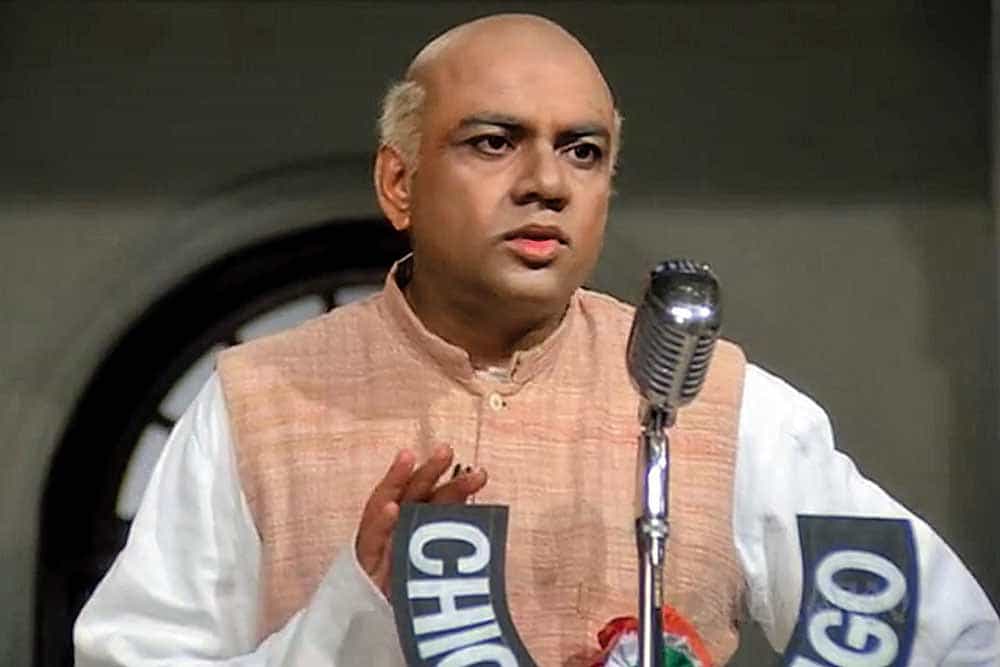 One of the most widely under-appreciated figures attached to India's freedom struggle and a true icon of democracy and political values that wasn't accepted heartily by the nation, Sardar Vallabhai Patel was a colossus in the same league as that of the great Gandhi, Bose and Nehru.
A revered intellectual and rightly termed the iron-man of India, for his staunch standing by the values and principles that define India intrinsically, Sardar Patel is a complex figure, even more so when attempted to be portrayed on the cinematic screen.
So, arguably, if there had to be an actor who could've essayed the role of this fatherly figure for the largest democracy in the world, it had to be Paresh Rawal, who shone brightly in his greatest titular role till date.
Tamanna 
Long before the term LGBT had even found its true meaning, let alone find its way into mainstream media or circles of dialogue, Paresh Rawal donned among his most challenging roles till date in Tamanna as a eunuch character. But this was one marked with heart-wrenching compassion and honesty; a person who goes on to save an abandoned girl child's life, with whom he had no connection or relation other than that of pure empathy.
A role that was moving and meaningful in equal parts, Rawal's sincere attempt at humanising a polarised people of the society served a lesson in equality and conscience.
There was little irony then, that in playing a transgender character, Paresh Rawal's Tikku Ali Sayed was both the motherly and fatherly figure responsible for the upbringing of Pooja Bhatt's character.
Table No. 21
A dark and cunning character, among the most audacious representations in his remarkable career, Table No. 21 unfurled a wildly grotesque persona of among India's most talented actors. What stood out were the chills that Paresh Rawal's eerie quizmaster gave down the audiences' spine even as it were the on-screen actors that suffered him. But then, as most Paresh Rawal characters, this one had a logic behind the insinuation it generously extended to seemingly harmless actors pitted against him.
Oh My God
A role that, for the sheer honesty or challenge of it, made us love the man who nearly became a god of acting, saw Paresh Rawal portray a character seemingly at odds with god itself.
If there was a god-particle in a movie that was as debated as it was admired, then Paresh Rawal's part was that.
His role as a non-believer in religion or spirituality; a person who nearly despises the idea of God became a strong counter-cultural representation of so many of individuals who identify themselves as 'atheists'. And boy, did it do wonders for raising the bar of Hollywood movies?
Hera Pheri Series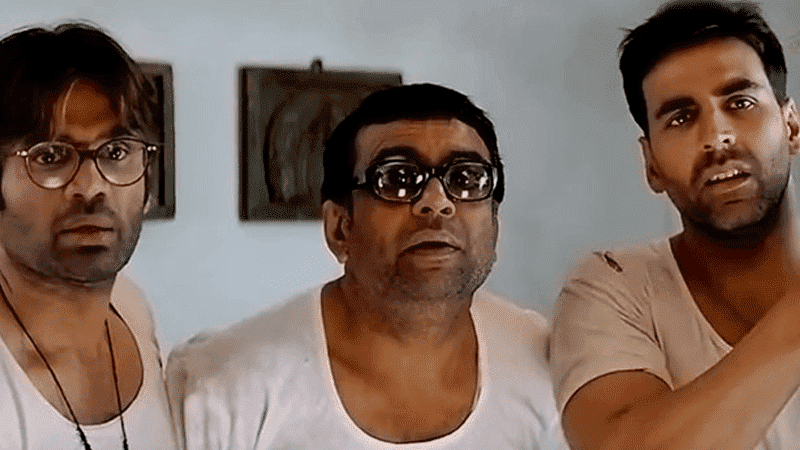 Can you imagine a Hera Pheri movie minus a man who could be called its heartline?
You couldn't possibly design a best Paresh Rawal movie-role without including this standout, laugh-out-loud, a rustic but cleverly boorish character that was as funny as it was loud-mouthed, as ridiculously senseless as it was human at the core of a movie that effortlessly stitched a thrilling plot at the heart of a comedy.