Often the word style is used rather loosely. It's commonly thrown around as if a cavalcade carrying rich sums of money indulged in a freewheeling distribution of sorts. But this phrase is truly valued when you place Dev Anand's handsome face right next to it! Every tiny cluster of his movements essayed style; it evoked sheer admiration and oozed class in many best films of Dev Anand.
"Jahaan Mein Aisa Kaun Hai, Ke Jisko Gham Mila Nahin," says the reprise version of Abhi Na Jao Chhod Ke from Dev Anand's Hum Dono! There's a little irony then that it perfectly gestures the feeling of those who Dev Anand left behind. And let's be fair, he left behind a void- a huge vacuum of style- didn't he?
Amitabh Bachchan might be the bard of acting and Raj Kapoor the legend of showmanship. But only Dev Anand was the suave stylist who none came close to. He charmed Hindi film cinema and its fans around the world like that mythical pied piper. You followed Dev Anand; you much rather wanted him to lead you. And everything he did- love, romance, playing catch up with chicks, following the ladies, being followed in return- seemed art imitating life.
You believed rains could carry a fragrance when Dev Anand romanced his leading ladies: Madhubala, Kalpana Kartik, Nanda, Waheeda Rehman and others.
That elegant personality, the easy-going gait, the soft smile, the famous silk scarfs that hung around shoulders that carried a pantheon of hits: Dev Anand was a colossus. His essence spurred movies to heights. His laidback presence enamoured thousands. Women liked him; men wanted to be like him.
If Shammi Kapoor was India's Elvis, then Dev Anand carved comparisons with the great Gregory Peck, the Hollywood great going as far as acknowledging a 'handsome Indian actor who looks like me!"
The others? Well, all were simply captivated by the magic Dev Anand truly was. Where actors depended on a hefty body language, some resting on sonorous voices, Dev Anand merely relied upon his personality. For that was his visiting card and his lifetime achievement award: no-nonsense, no theatrics, no drama. But just pure style!
So which are the 4 best films of Dev Anand that pay a homage to this timeless showstopper?
1. Guide
Playing Raju, the travel guide, who steals the heart of Rosy, one of the best films of Dev Anand also brought out one of his most memorable performance of all times.
An implicit element of Guide was Dev Anand's transformation as a charming travel expert who turned to spirituality in the process of finding love and eventually, winning this mega battle of hearts.
His chemistry with the great Waheeda Rehman was the stuff cinematic dreams were made of!
2. Jewel Thief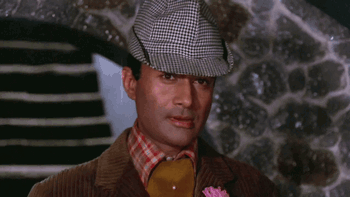 This 1970-epic directed by the actor's brother- Vijay Anand- was indeed one of the best films of Dev Anand. It aligned his stylish character, one serving prison time to a legion of gangsters engaged in diamond trade. Dev Anand was probably the only gentleman who could've made an interesting pair with Pran on the big-screen and was able to not just hit it off well with Hema Malini, but rather make it a delightful romantic pairing, one to be treasured.
3. Hum Dono
Handling one Dev Anand meant managing too much style and classiness at one single time. Then, imagine handling Anand's Anands' together?
The endearing story of two identical soldiers whose lives get intertwined when one of them falls into a battle saw Dev Anand make bright eyes turn to teary, evoke emotions one hadn't expected from a romantic star of his height, and display an endless array of quintessential Dev Anand-ness in numbers such as Abhi Na Jao Chhod Ke and Main Zindagi Ka Saath Nibhata Chala Gaya.
4. Tere Ghar Ke Samne
Only a Dev Anand could've evoked charm weaving it in a song dedicated to a concrete fortification of brick and mortar- isn't it? Starring opposite Nutan, Dev Sahab was at his enigmatic best in a movie that was about a romantic couple moving close to one other with the central plot being that of a contract to build a house.
To be fair, to this day one doesn't quite know how to describe Dev Anand's DNA of sexiness. He didn't boast of the raw machismo that the likes of Rock Hudson, Peter O'Toole or Dharmendra brought to the core. Dev Anand wasn't the pink-skinned scorcher of the screen like a Shashi and Feroze Khan were.
But to be honest, what Dev Anand was, others simply weren't. He was the silver lining in a black cloud, a holder of dashing looks that none around him possessed, and an antidote to monotony; filling each vignette of a film sequence with unabashed joie-de-vivre!