Three things about Delhi are, well, so Delhi. Food courts are the first. Second- Rajneeti. And third- staring at women and finding a way to publically crotch-grab whilst doing so. Fourth could be- getting away with it, because, well, this is a city, where someone or the other is always influential and around to save you.
Isn't it?
But then, there's the most-celebrated angle to Delhi and he is known to captain the side. And guess, what, he happens to be married to the subject of this piece that you are still reading, lol!
On a more serious note, Mrs. Virat Kohli- no- it's Anushka Sharma- since we are no one to undermine a capable, successful, honest, and self-made actor (even if the term actress seems in no way horrible), is one of the finest from New Delhi, a city that's currently dealing with the excesses of pollution.
And to that regard, one may feel, one of the lighter ways in which to deal with the mess would be to have two versions of Anushka Sharma. Isn't it? This is, hold your horses, not even sarcasm.
And if you were to actually think on those lines, you'd realize that there are not one but two Anushka Sharma's out there. And hey, this isn't even a repeat telecast of Replicant in real life.
Believe it or not, it's not that Anushka Sharma, the crazily talented yellow dress-wearer on Koffee with Karan or the bedazzling Neha behind Band Baaja, and Baarat are two people now. It's just that she's decided to color her hair white as you may have been pleasantly surprised to note in this picture.
Okay, this was, once again, a joke and Anushka- please punch me on the face, for I deserve it. But you've got to know, I defended your acting in "When Harry Met Sejal." And I still stand by it.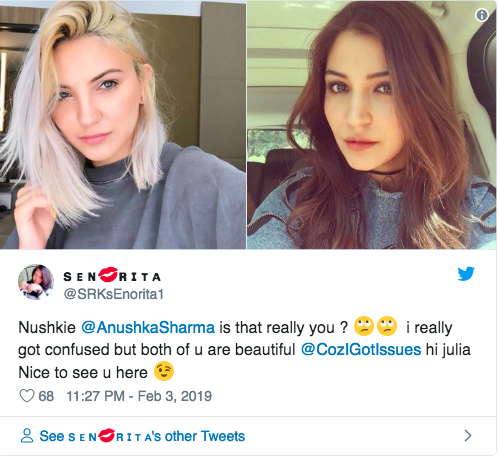 Anyhow, there's an Anushka Sharma Doppelganger in Pakistan, of all places and the moment the image came about, there has been no dearth in public reaction. So what exactly has happened?
Here's what it is.
Turns out that a Twitter user who's sweetly presented herself as 'Senorita' (yes, as in, that famous Hrithik-Abhay Deol-Farhan number with Abhay Deol singing in as well) bears this uncanny resemblance with Anushka Sharma and hence, one of the current obsessions on the social media landscape is the Anushka Sharma doppelganger.
Things have been so rampant as noted by the revered NDTV that the following observations were made with regards to Ms Senorita, aka, Anushka Sharma doppelganger:
Twitter and Instagram were soon flooded with comments comparing the two. While some wondered whether Anushka had dyed her hair blonde, others called them twins. The number of comments even made Julia sit up and take notice!