Amitabh Bachchan, an angry young man who was initially turned down by many directors for being yanky and tall has established himself as the "Shahenshah" of Bollywood. However, he has other young contemporary actors yet he has been ruling or rather mesmerizing Hindi cinema with his own charms for more than 4 decades.
The world knows of Amitabh Bachchan and his impeccable ability to produce the best characters onscreen. The journey which started from Saat Hindustani and started flourishing from Zanjeer is still hitting milestones of success. Everything about him, prepossessing personality, impeccable intonation while delivering dialogues, overwhelming expressions, whacky choices of characters he plays and undying love to contribute to Hindi cinema, is inspirational.
Amitabh is mostly known for his iconic roles and screen presence. Some of his dialogues are so popular among his fans that they learned them by heart. And why not? After all, most of them are dripping with swag. His remarkable influence on Hindi cinema earned him the title of Big – B. But it wasn't only Amitabh Bachchan dialogues that made him the "Shahenshah" or "The Big – B" of Bollywood.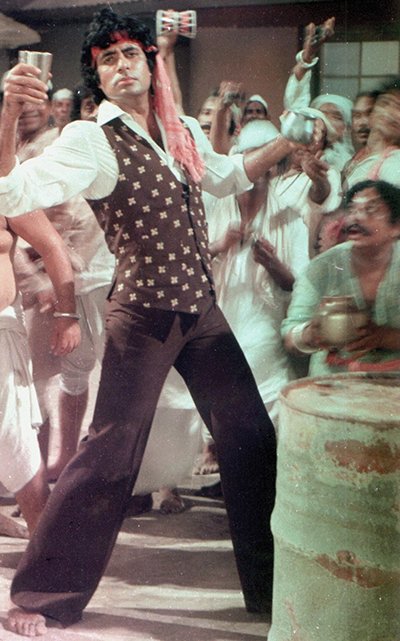 He had a spark that people call it Swag now. From putting on those bellbottoms despite having really long legs, wearing cravat around his neck, bringing the turtleneck sweaters in fashion, donning big shades that we now call aviators, Kolhapuri chappals that he wore effortlessly and keeping long flowy hair at that time when it wasn't a rage at all. All of these factors made him stood apart from his contemporary actors.
It is certain that the time has changed and so does Bollywood and BIg-B. Amitabh has turned 75-years-old today, but here we have few Amitabh Bachchan dialogues that will certainly prove that he was hip and happening when people weren't aware what does that mean.
1. It All Comes Down To This!

2. Fu*k Rules!

3. Thakur Bhanu Pratap Singh!

4. I Am Who I Am!

5. Iron Man!

6. Now That's Epic!

7. Open Challenge!

8. Always First!

9. What Do You See?

10. My Way Or My Way!

11. True!

12. Roger That!

13. Iconic!

14. Lesson!

15.What He Said.

16. Attitude Level – Boss!

As we said, the true definition of Swag. Happy Birthday, Big B!
11 October 2017
Avni s. Singh