Akshay Kumar is all set to celebrate his new character with his upcoming movie Rustom. We all know how much he loves martial arts and kick boxing after all this "Delhi Ka Launda" is extremely talented. But what he did recently will make you feel prouder.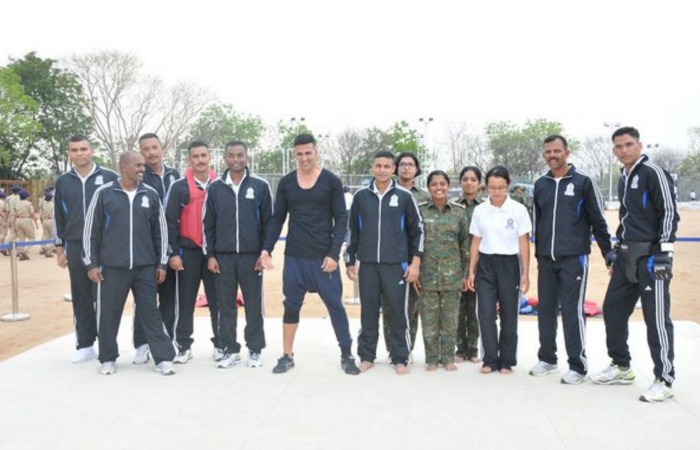 He visited the IPS academy in Hyderabad and spent an entire day interacting with the IPS officers on Tuesday. He played volleyball and skited off his quick reflexes and combat skills. He spent some quality time with the officers and the officers must have enjoyed a lot too for sure. Not every day a mega star pays a visit to their academy.
Akshay Kumar has been busy as he is shooting for his two upcoming movie ventures Housefull 3 and Rustom but we guess he was tired of everyday routine so he took a day off and visited a place where he could kick off some strain and feel relaxed.   
Not only he played volleyball but also the actor did sparring with an IPS officer. The actor tweeted the video and you won't believe how good he was at that.
Take A Look:
Spent my day off in Hyderabad with the new IPS officer recruits.Fun interaction,volleyball & a combat ends the day!https://t.co/N7nwvLEkca

— Akshay Kumar (@akshaykumar) April 26, 2016
The actor is moving like a lightning stroke and from his moves it looks like he is a pro. Well we know he is a martial art champ but we never thought that he would be better than the officers there. The officer though are trying to keep a distance from Akshay's face as the actor cannot afford a scar on it but still he matched up to the officer pretty good.
Akshay, now we love you more!!
Follow us on Facebook, Twitter and Instagram for more updates. Don't forget to like and share. Do tell us your views in the comment box below.
27 April, 2016
Avni S. Singh