Akshay Kumar, the popular actor who has entertained us through his many movies, also has immense emotions for Indian Soldiers. Akshay has always come forward to support Indian Army, every time he surpasses his own efforts and makes us prouder than ever. Remember, about two months ago he shared an Idea of making a website to support the families of soldiers who have lost their lives fighting for the country?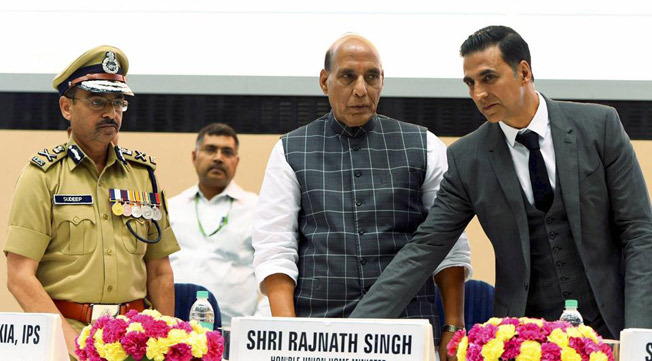 Well, he has turned it into reality. Today, he launched a website and a mobile app 'Bharat ke veer', which is specially dedicated to support the families of Indian Soldiers. At the launch, Akshay Kumar stated that he got the idea while watching a movie. The movie was on terrorists which demonstrated that how terror leaders financially support the families of the terrorist who carry out terror acts.
Akshay launched the app with Union Minister Rajnath Singh in Delhi. He praised Indian Government for providing a platform for everyone to help the families of soldiers and making his dream come true. The actor recently bagged the National Award for Best Actor for his film 'Rustom'.
Akshay stated, "Everybody wants to connect to people in uniform in their pain. It was a small dream and to fulfill this dream, our government really helped us. I want to thank everybody with my folded hands. My father was in Army and I am here as his son. Thank-you everyone."
Here Are The Pictures And Tweets Of The Launch:
A Day I Found Hard To Hold Back My Tears…Support the families of our Bravehearts ❤ #BharatKeVeer Now LIVE –> https://t.co/wCPFZOYV7g pic.twitter.com/8wKGcaRYdD

— Akshay Kumar (@akshaykumar) April 9, 2017
Such an Honour to Garland the sacred soil of the Sardar Post on #ValourDay. Launching my dream, #BharatKeVeer as we speak!! Jai Hind pic.twitter.com/JbJUoNbq5i

— Akshay Kumar (@akshaykumar) April 9, 2017
A heartfelt thank you to hon. @rajnathsingh,Shri. Rajiv Mehrishi and @paramiyer_ for making #BharatKeVeer possible 🙏🏻 pic.twitter.com/U0iOGicMp9

— Akshay Kumar (@akshaykumar) April 9, 2017
We have many people who discuss and write about the pain they feel for Indian Soldiers but this man took a step and actually did something about it. It is said that action speaks louder than words and Akshay Kumar proved that the saying stands correct.
Sir, We Salute You!