It may not be wrong to say that 'Thugs of Hindostan' brings together the biggest possible cinematic collaboration between two versatile actors from India. That Aamir Khan and Amitabh Bachchan haven't acted before together only makes the thrill of seeing them under one roof exciting.
While on the one hand, there's going to be Bollywood's Mr Perfect on the screen, having someone like an acting powerhouse in Mr Bachchan, on the other hand, increases the anticipation of fans like few other things could have.
Simply imagine the sight; the intense and brooding Aamir exchanging dialogues and sharing screen space with the great doyen of Indian cinema. What can get better?
Now, there appears to be a news that is slated to make one cringe even more for the Aamir Khan and Amitabh Bachchan starrer.
The unreleased Thugs of Hindostan, a collaboration that's akin to making a Tom Hanks star with Al Pacino raises the prospect of understanding another element of the film.
What might be its characters like? Are they going to be heavily costume-dependant? The nation, on this occasion, does need to know some details.
But as seen in movies like Mangal Pandey, Netaji Bose (directed by Shyam Benegal), Asoka, Bajirao Mastani and others, there is the great likelihood of Thugs of Hindostan blending a period narrative with a costume-oriented drama.
And guess what? The time to ponder what Mr Bachchan's character is going to be like is over.
Finally, the look of Mr Amitabh Bachchan's character in Thugs of Hindostan has been revealed. At present, the current look features a rather debatable, discussion-worthy and 'slightly over the top' kind of look, where social media rabble is concerned.
Appearing as a warrior, or a fighter of sorts, decked in a war-suit, Mr Bachchan's look is both engaging as well as perplexing. That he's wearing a turban and is armed with what appears to be a powerful sword, makes his role in the film even more exciting.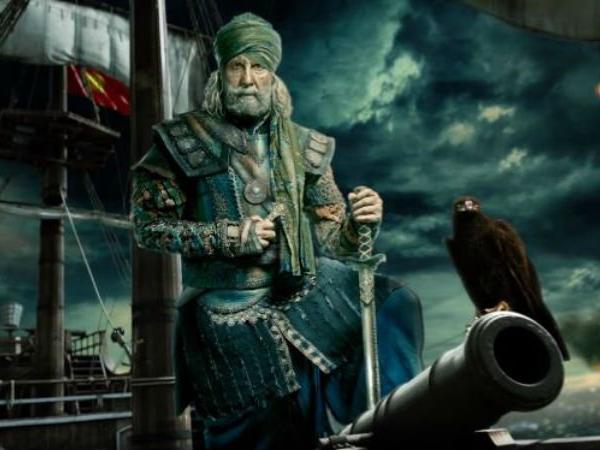 What's known about the much talked about Aamir Khan and Amitabh Bachchan flick is that the latter's character is called "Khudabaksh". Online reports at this point in time suggest that Mr Amitabh Bachchan's character is a dauntless pirate, ready for some fist-full of action. What stands out, in particular, from his warrior-like ethos is the metallic shoulder-pad.
There definitely seems to be plenty of action in this forthcoming film whose heartline happen to be Aamir Khan and of course, Mr Bachchan.
Well, given that the film has generated a lot of talk and true to Aamir's penchant for making his movies garner a great pre-release buzz, this one too seems to be on that path. Imagine seeing two of the finest actors in tandem, essaying diverse characters with their mighty talent.