One of the biggest and most anticipated releases of this month is finally coming out tomorrow. We're talking about none other than Alia Bhatt and Vicky Kaushal starrer Raazi which has been directed by talented Meghna Gulzar.
Every trailer and song of Raazi has gathered a positive review on social media till now, and seeing Alia in another intense role is always a good thing, which is why fans are keenly waiting for the release. However, before the official release of the movie for viewers, the makers decided to have a celebrity viewing which included some of the biggest and most influential stars from different industries of entertainment. From movies to television, every big name was asked to come for the screening and everyone came for it too.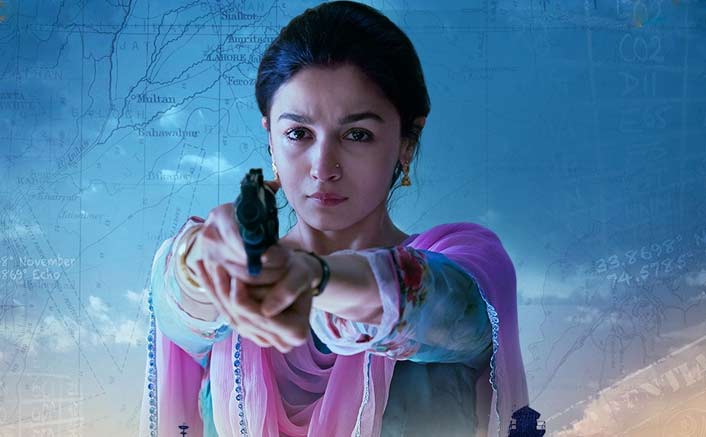 And, to cut short on everything, every single one of them loved Raazi to bits and pieces. They can't stop raving about the movie on their social media and appealing to their fans to go out and watch the movie too, moreover, people can't stop praising Alia for her performance in the movie.
Here's how entertainment industry reacted to the movie.
Photo bombed by the bomb! And @meghnagulzar my darling !!! It's been so gratifying and so special to be on this journey with you!!! Papa would have been so proud! He loved you dearly!!!! #raazi pic.twitter.com/iE8xr4SIEw

— Karan Johar (@karanjohar) May 10, 2018
#OneWordReview…#Raazi: TERRIFIC.
Rating: ⭐️⭐️⭐️⭐️
A meritorious story that deserves to be told… Brilliantly narrated by Meghna Gulzar… @aliaa08, you're a powerhouse of talent… #Raazi unlocks your true potential as an actor… Take a bow, Team #Raazi. pic.twitter.com/8oXqOCFKnz

— taran adarsh (@taran_adarsh) May 10, 2018
It's simply SUPERB! Please open the flood gates at the box office for this one ! Rarely a film meets expectations n this is bang on! #Raazi
Congratulations @meghnagulzar @karanjohar @vineetjaintimes @aliaa08 @vickykaushal09 👏🏼👏🏼👏🏼👏🏼👏🏼

— taapsee pannu (@taapsee) May 9, 2018
#Raazi is phenomenal!! One of the best films I have seen with performances that will stay with you forever!! Huge congrats @meghnagulzar @DharmaMovies 👏🏼👏🏼 @vickykaushal09 , u & the entire cast are pitch perfect, so brilliant! And @aliaa08 .. (cont) pic.twitter.com/hED3HHe0i6

— Sophie C (@Sophie_Choudry) May 10, 2018
Saw #raazi. It's an outstanding film and @meghnagulzar a master storyteller. Watch it for a great story and amazing performances from @aliaa08 @vickykaushal09 and all others. Salutes @JungleePictures @karanjohar

— Rajkumar Hirani (@RajkumarHirani) May 10, 2018
Being a Kashmiri girl myself I know how simplicity can be breathtakingly beautiful. This song surely takes me back to the most beloved memory lanes. Thank you @meghnagulzar @Shankar_Live @aliaa08 @HarshdeepKaur for rejuvenating our folk songs.. #Dilbaro My best wishes for #Raazi pic.twitter.com/OxonJ7eCfE

— Hina Khan (@eyehinakhan) May 7, 2018
Just saw #raazi and I am speechless . @aliaa08 is just phenomenal . Such a difficult role done with so much ease . She is terrific What a film . A must watch [email protected]

— Jackky Bhagnani (@jackkybhagnani) May 9, 2018
Two fathers hug each other after watching their kids' powerful path breaking film RAAZI pic.twitter.com/aGHU9CO8T0

— Mahesh Bhatt (@MaheshNBhatt) May 9, 2018
https://twitter.com/authoramish/status/994263710653874176
Not because I've known her my whole life,but Alia,in her short career span has proved that she will blow your mind & be the bravest actor of her time EVERY SINGLE TIME. Raazi has given me goosebumps & I cant shake it off.

— Masaba (@MasabaG) May 9, 2018
It's so inspiring to watch you perform @aliaa08 you outdo yourself every time & with #Raazi you've raised the bar! @meghnagulzar Thank you for making such a beautiful film❤️ @vickykaushal09 your moments of silence speak louder than words. Congratulations to the entire team!

— Kiara Advani (@advani_kiara) May 10, 2018
Raazi is a spy-thriller movie and tells the story of an undercover Indian spy in Pakistan. Interestingly, the movie is based on a true story which takes the entire gravity of the story a notch higher. It is based on a true story of a young girl, who was sent to Pakistan in 1971, to source out any information she could, as a war was becoming imminent between India and Pakistan. It is the journey of an ordinary Indian girl, in extraordinary circumstances, as explained by the makers of the movie.
The film is adapted from Harinder Sikka's book – Calling Sehmat. Apart from Alia Bhatt, Raazi also has Vicky Kaushal, Rajit Kapoor, Soni Razdan and Shishir Sharma in pivotal roles. The movie is directed by Meghna Gulzar who previously stunned the audience with her movie Talvar, based on the Arushi murder case.
Let's hope the movie is as good as the celebs are saying and we get to see Alia in another strong and intense role, after all, she's the queen on these roles and has mastered her art form with movies like Highway and Udta Punjab.
Jyotsna Amla