"There is no place that you can hide…No no, the rhythm is gonna get you" if you have heard this song and know what EDM is, then you should know the prophecy has come true. Gone are the days when metal songs were the only heaven and metal artists: the only demigods in our lives. To groove is what we look out for and lately, EDM (Electronic Dance Music) has become the go-to genre for the world with a plethora of music festivals being organised throughout the year.
It is true that one can enjoy EDM inside a four-walled existence with headphones on 'blast mode' but real fun happens when you are part of a live audience that is there to live it up.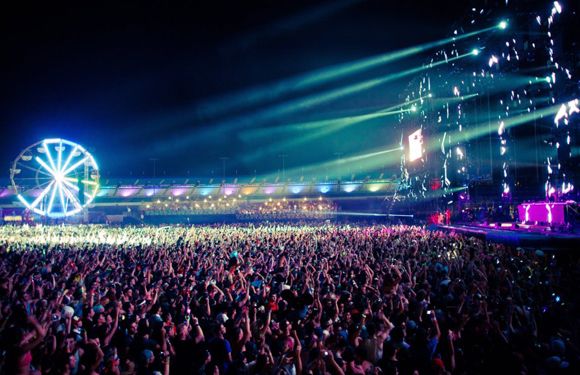 While raves are a classic and almost stereotypical version of EDM festivals, the best way to really connect with this vast culture of Electronic Dance Music is to attend a music festival where newbies and seasoned pros flock to the same space for a mad and trippy affair.
However, there are a huge number of EDM festivals to choose from and what makes opting for the best is the fact that the likes of Tiesto, deadmau5, Swedish House Mafia, Hardwell, Armin Van Buuren, David Guetta and Calvin Harris, all make regular appearances at globetrotting events.
Given the kind of price tag the tickets attract, it's better to have a list of Best EDM Festivals In The World before making up your mind, for not every one of them is the same.
Being the mainstream powerhouse EDM is today, there are great numbers of events happening around the globe but here is the list of five of the greatest and the biggest EDM festivals that should be on your bucket list.
Best EDM Festivals In The World That Should Be On Your Bucket List
1. Creamfields
Where: Daresbury, Cheshire, UK
When: August 24-27, 2018
With six stages that feature some of EDM's biggest names, like Deadmau5 and Eric Prydz, there's no question as to why Creamfields is one of the biggest and premiere festivals in the UK. Internationally acclaimed DJs like Calvin Harris, Fatboy Slim, deadmau5, Afrojack, Tiesto Paul Van Dyk were the headliners of last year's event and such is the success of Creamfields that it has been cloned in countries like UAE, Chile, Lithuania, Lebanon, Brazil, Mexico, and Argentina.
2. Tomorrowland
Where: Boom, Belgium
When: July 21-30, 2018
An audio-visual treat, there are only a few EDM festivals in the world that can rival this event. Incredible decorations and a huge tower for the DJs, the festival attracts the best of crowds in every context. What adds to the beauty of Tomorrowland is the strange and mythological half human–half goat creature lurking in the woods, Buddhas shaking with bass, and superheroes standing by the swimming pools.
With a lineup including Steve Aoki, Don Diablo, Afrojack, Alison Wonderland, David Guetta, Swedish House Mafia and Nicky Romero, it's easy to deduce why Tomorrowland is the sole EDM festival on everyone's lips these days.
3. Ultra Music Festival
Where: Miami, Florida, USA
When: March 24-26, 2018
Whenever someone thinks of the best EDM festivals in the World, Ultra immediately comes to their mind. Since 1999, Ultra Music Festival has been Miami's backbone of the party scene, with the festival now growing from a one-day event to a three-day mind-boggling affair. Showcasing the fiercest of stage designs and the some of the most recognizable names from the of any EDM industry like, The Prodigy, David Guetta, Deadmau5, Ice Cube, Major Lazer, Tiesto, Justice and DJ Snake, it has become a heaven of electronic music.
What sets apart Ultra from other festivals on this list is the fact that it streams live coverage via YouTube which is a blessing for those who don't revel in physicality. Although it began its journey in the U.S, the concept has been shared with the world as UMFs is now also organized far-reaching destinations like Buenos Aires, Korea, Ibiza, Brazil, and Chile.
4. Sunburn
Where: Pune and Goa, India
When: December 28-31, 2017
The brainchild of India's biggest DJ, Nikhil Chinapa, Sunburn is the country's answer to all international Dance music festivals. The event has shaped up into Asia's largest music festival, having fans flocking in from all over to world and since it is organized in the month of December, Sunburn has also become the perfect Holiday spot for music fanatics.
While Sunburn has shifted its base, from Goa to Pune, it still continues to feature international headliners like Armin Van Buuren, Afrojack, David Guetta, Dyro, Martin Garrix Diplo and Like Mike.
5. Electric Daisy Carnival
Where: Las Vegas, Nevada, USA
When: June 2018
Arguably the largest EDM festival in North America, Electric Daisy sees more than 400,000 average attendees and is organized in spring, summer as well as fall months. In this 2-day extravaganza, you get to witness a musical journey with the likes of Afrojack, Kaskade, Dimitri Vegas & Like Mike, David Guetta Tiesto, Armin van Buuren, and Steve Aoki.
While EDC began its journey in Southern California, it has spread to numerous venues across the globe, including India, while also becoming the largest EDM festival outside of Europe.
If none of these suit your traveling limits than here is a list of some other best EDM festivals in the world that even though do not feature in the top 5, enjoy a huge fan base and shouldn't be ignored if you are a music fanatic.
Where: New York City, New York, USA
When: September 2018
Where: Barcelona, Spain
When: June 2018
Where: Dadpuszta, Hungary
When: July–August 2018
Where: Dadpuszta, Hungary
When: July-August, 2018
Where: Haarlemmermeer, The Netherlands
When: August 26-27, 2018
Music has the power to unite, they say, but these EDM (Electronic Dance Music) festivals have the power of letting you resurrect from within.
Rohan Jaitly