A decade ago, selling a used car was a mammoth task; one had to sell their old car via a used car dealer, or list it on an online classified. But gone are the days of waiting for weeks or months to sell a used car, the modern way of selling happens in less than an hour!
The used car industry in India was mostly unorganized and luckily today we have a handful of companies offering quick, efficient and reliable car selling services. Thanks to the booming second-hand car industry in comparison to struggling new car industry. A few years ago, the ratio of new cars to used cars was 1:1.2 which is now at 1:2.2. In simple words, when 10 new cars are sold, 22 used cars are available for sale in the market.
We decided to draw a comparison between the two major market players in the used car business, to understand; which is better CARS24 or OLX Cash my car?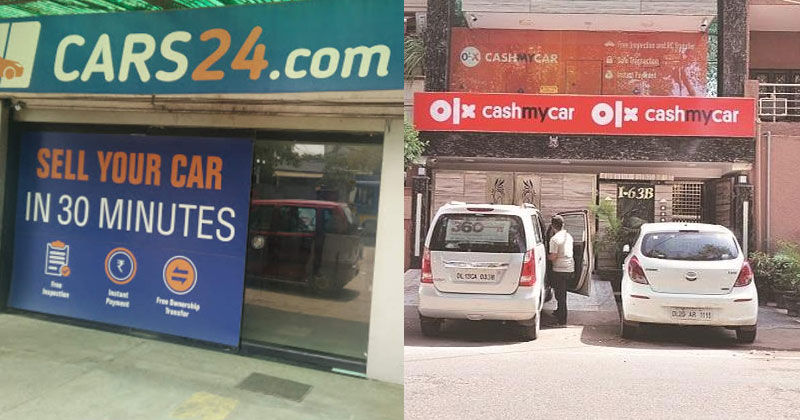 Both the companies, be it Cars24 or OLX Cash My Car, have a very similar business model. But interestingly CARS24, a tech-based startup based out of Gurgaon were the pioneers in establishing this business model of car selling way back in 2015 while OLX was known for posting used car ads on their portal.
Before we look into the car selling process of both these companies in detail, let's discuss about the most important factor a customer always looks for when selling an old car – "Price"
I had taken the exact same car to both Cars24 and OLX Cash My Car in Gurgaon, on two different weekends, and the difference in the ODO meter readings were less than 300kms.
Both the companies have a team of knowledgeable and courteous staff, be it in the sales team or the technical team, and the time taken for the complete car selling process is more or less the same.
The "Price" for your car is the obtained through a live auction and if the customer agrees to it, the payment is immediately transferred their bank account and also the post-sale documentation like the RC transfer is taken care by the company itself.
But how does Cars24 manage to offer a higher price than its competitor?
Cars24 was able to offer a higher price than OLX Cash My Car mainly because of a larger network of channel partners than it its competitor; they have more than 10,000 partners across India while OLX has only about 3,000 channel partners. Probably the higher number of bidders for every given car is what leads a much higher price on offer to the end customer.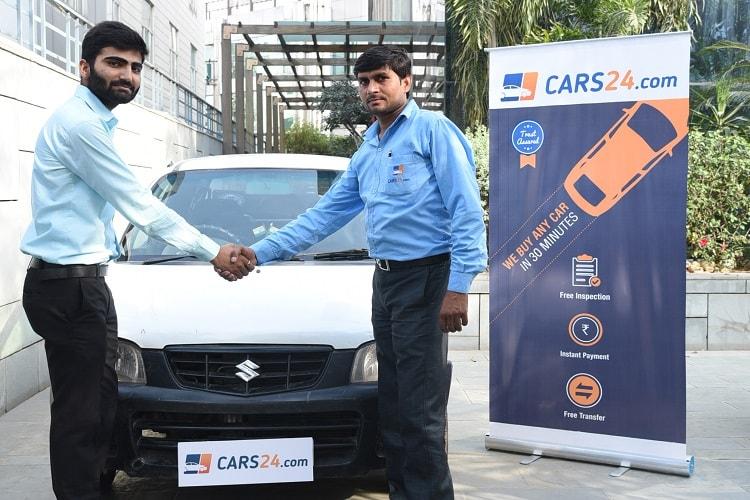 Cars24 also has an upper hand when it comes to the ease of accessibility, present in over 75 cities with more than 200 branches while OLX is present in 14 cities and has close to 50 branches currently.
How to sell your car at Cars24 & Olx Cash My Car?
Both Cars24 and Olx Cash My Car have different names and terms to describe the various processes involved when selling a car, they can simply be divided into 3 steps:
Appointment "Book it through the website or App – or at the outlet"

Car & Document inspection "On the day of the appointment, the registered owner (or a representative) along with the car needs to visit the location. The original documents of the cars such as RC, Insurance, and other necessary documents are verified to ensure that the vehicle is legitimate and doesn't have traffic violations or criminal cases registered against it. The car is then inspected by a technical expert who does a thorough check of the exterior, interior, engine room, tyre condition and makes a note of it on a handheld device. Once the inspection is complete, an "inspection report" is generated.

LIVE Auction: The inspection report is made available to the channel partners (buyers) who bid through a separate app for about 20 minutes. The highest bid is the "Price" the customer receives for the car.
Higher Transactions, Larger Network of Channel Partners and More Stores give Cars24 an edge over its competitor when it comes to pricing, like the old saying goes "More the Merrier".