Gone are the days when one had to manually pay for traffic challans while standing in the long queues bearing the scorching heat of Delhi's summer. With the recent technological developments across Delhi along with the installation of CCTV cameras in the city, it is not easy to evade a traffic challan. With the CCTV cameras keeping a sharp eye on you, as soon as you break a traffic rule, you are handed an e-challan. Here's how to pay traffic challan online in Delhi.
Can Traffic Challan be Paid Online?
Here are the Steps to Pay Traffic Challan Online in Delhi.
Delhi Traffic Police has come up with their own e-challan website. Just visit https://delhitrafficpolice.nic.in and click on the 'NOTICE' tab. Afterwards, click on the 'Pending Notices'.
You will be taken to a page where you need to fill in your vehicle details like the registration number and engine number. Afterwards, an OTP will be sent to your registered mobile number.
Enter the OTP and a list of challans, against your vehicle, will be presented to you. Once you have gone through the challan details, click on 'Pay Now' to go to the next step.
You will be taken to a page that displays the Payment ID, total amount, and a drop-down tab of the respective payment gateways.
Once you have selected the Payment Gateway, read on the terms and conditions and move forward to choose the mode of payment, debit card, credit card or net banking.
Once the mode of payment has been selected click on 'Pay Now', you will then be taken to your bank's portal wherein it will ask you for OTP. Just fill in the OTP and the payment would get completed.
A payment successful notification will pop up and transaction id will be sent to the registered mobile number.
Save the transaction ID for any future references or follow-ups.
Ways to Pay e-challan

Offline

in Delhi
1. Pay cash amount to any Delhi Traffic Police Officer who has an e-challan machine.
2. One can also directly go to the Traffic Police Headquarters with the documents containing the offenders' name, address and driving license.
3. A Demand Draft, Pay Order or Cheque made in the favour of Delhi Traffic Police can be couriered to Delhi Traffic Police Headquarter.
4. A money order can be sent through the post office to Delhi Traffic Police Headquarters.
If you want to register a complaint with the Delhi Traffic Police, you can do so by sending a Whatsapp message to 8750871493 or reaching them on their official Facebook Page.
How can I check my traffic challan online in Delhi?
It may happen that you might not be aware of an e-challan for an offence that was caught in CCTV installed on the roads of Delhi. The Ministry of Road Transport and Highways has come up with a solution called PARIVAHAN to check the status of any pending e-challan or notice.
Steps to check for traffic challan status online in Delhi:
Step1: Visit https://echallan.parivahan.gov.in
Step2: Click 'Check Challan Status'
Step3: Click on 'Get Challan Details'
Step4: Enter either of the following – Challan Number, Vehicle Number or DL Number.
Step5: Fill in the details and enter Captcha as shown on the screen
Step6: Upon clicking the 'Get Detail' tab, you will be provided with all the information related to your e-challans and notices.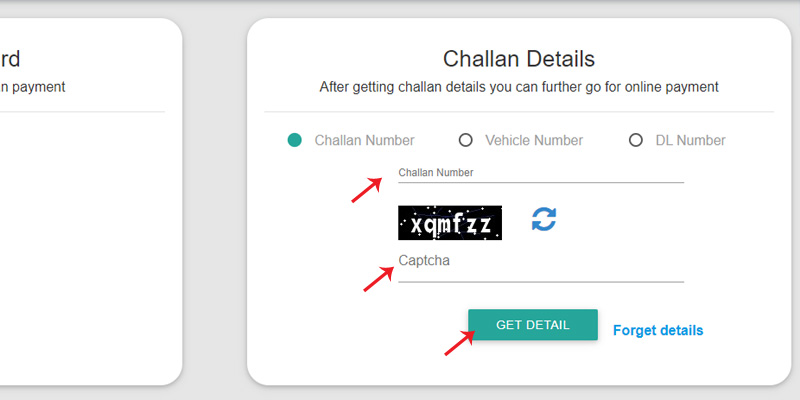 List of Fine on Various Traffic Challans in Delhi
Delhi is infamous for its road rage scenarios where people go abruptly insane to cause harm to one another over small scratches and dents on their vehicles. The Indian Government has increased the penalties to make Delhiites adhere to the traffic rules.
Here Are Some of the Biggest Penalties Post Price Increase
Driving without a seat belt: If you are caught driving without a seat belt in the capital, you have to pay a fine of 1000 rs and your license can be suspended for 3 months.
Riding without a helmet: A person caught riding without a helmet will be fined Rs 1000 and the license will get suspended for 3 months as well.
Driving without Valid Driving License: A fine of Rs 5000 would be charged against driving without a valid Driving License.
Using Mobile Phone While Driving: If caught driving while using a mobile phone, the driver will be fined Rs 5000 along with the suspension of Driving License for 3 months.
Driving Under The Influence of Alcohol: Drunken driving is a very serious offence and the person caught drunk driving, is fined Rs 10000 and can be imprisoned for upto 6 months. If the same offence is repeated again the fine increases to 15000 and imprisonment upto 2 years.
Step by Step Guide to Pay Traffic Challan Online in Delhi – e-Challan Online Payment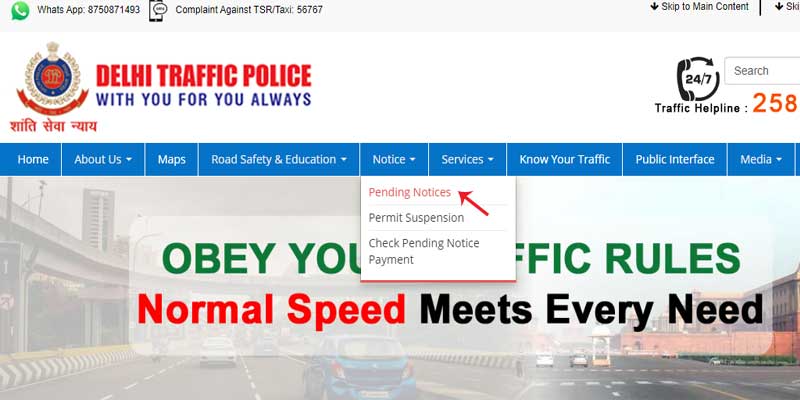 Step 4: Enter Either of the following, Vehicle Number or Notice Number
Step 5: Click 'Search Details' to get all the information about your challan if any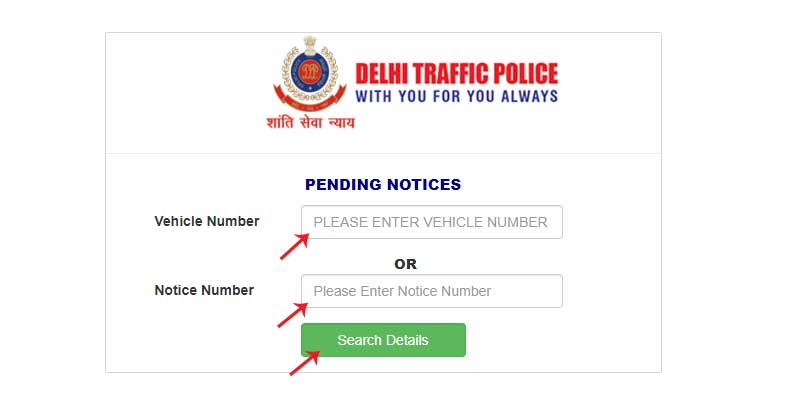 Step 6 Click 'Pay Now' if a pending notice is present
Step 7: Crosscheck the 'Amount' and 'Payment ID'
Step 8: Choose the respective mode of payment & make the payment
Step 9: Once the payment is done, a 'Payment Successful' message will be sent to your phone.