2017 Audi A3 Facelift has been launched in India with prices starting at Rs 30.50 lakh for the 1.4-litre petrol model while the 2.0-litre diesel variant will cost you Rs 32.3 lakh, all prices are ex-showroom, Delhi. The German Car Manufacturer is also marking its 10th anniversary in India, which makes the 2017 Audi A3 Facelift even more important.
Audi A3 has been the 'money' moniker for the company but was struggling to face the test to time. Since the other offerings were updated with the recent 'fluid design', the A3 too needed some upgrades and what the Germans have done with the 2017 Audi A3 Facelift, is just hands down 'extraordinary'. They have taken their most affordable sedan very close to the Audi A4 and as a result, this is one of the most subtle looking yet sporty executive luxury sedans in India.
But is it enough to keep up with the competition? Let's see!!
What's New On The Outside
The headlamps have been revamped and the front grille is broader and the hexagonal single-frame grille comes with a chrome border
Dynamic turn indicators has been finally added to the Audi A3
The new headlamp design has been borrowed from Audi A4
5 spoke, 16-inch alloy wheels with 205/55 R16 Bridgestones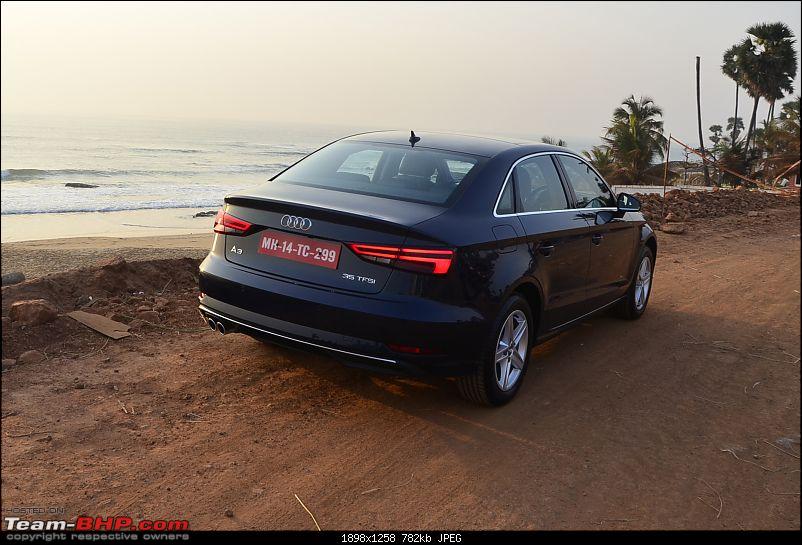 Except for the taillight design, The rear end looks more or less the same as the previous Audi A3
LED tail-lamps now comes with dynamic turn indicators
What adds character to the 2017 Audi A3 Facelift are the beefed-up wheel-arches as well as a small spoiler on the boot lid that reflects just adequate aggression for a sporty luxury sedan.
What's New On The Inside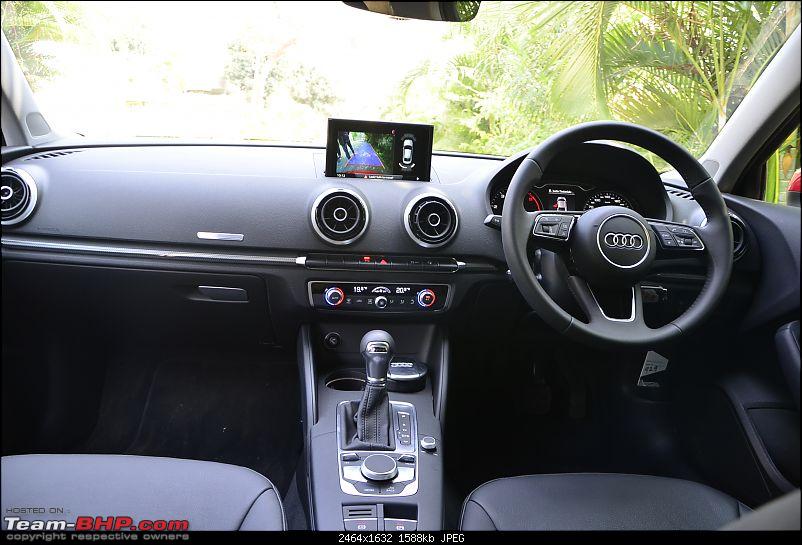 7″ ICE with new software upgrades is now standard across all variants
A three-spoke steering wheel has been introduced instead of a four-spoke one, which is both rake and reach adjustable.
Another USP of 2017 Audi A3 Facelift is the wireless charging port ("Audi Phone Box"). However, for iPhone users, Audi has a separate charging box which can be purchased separately for Rs 1500. You also get two USB ports and an AUX-input inside the wireless charging platform.
Wider, frameless IRVM instead of the oval-shaped one
The car comes with a host of jazzy bits like Milano leather seats, Audi Sound system, 2-zone Deluxe AC, 7-Airbags and a panoramic sunroof.
Engine and Transmission
This is where the 'big-changes' have been made. The 2017 Audi A3 Facelift gets a new, downsized petrol engine, which is slightly less on power but comes with improved overall fuel efficiency. The 1.4-litre TFSI turbocharged petrol motor has replaced the 1.8-litre turbo mill and petrol-heads will be disappointed as performance has gone from 'explosive' to 'adequate'. It churns out 150PS of max power (a drop of 30PS), however, the peak torque remains the same at 250 Nm, and the engine is mated to a seven-speed DSG automatic gearbox.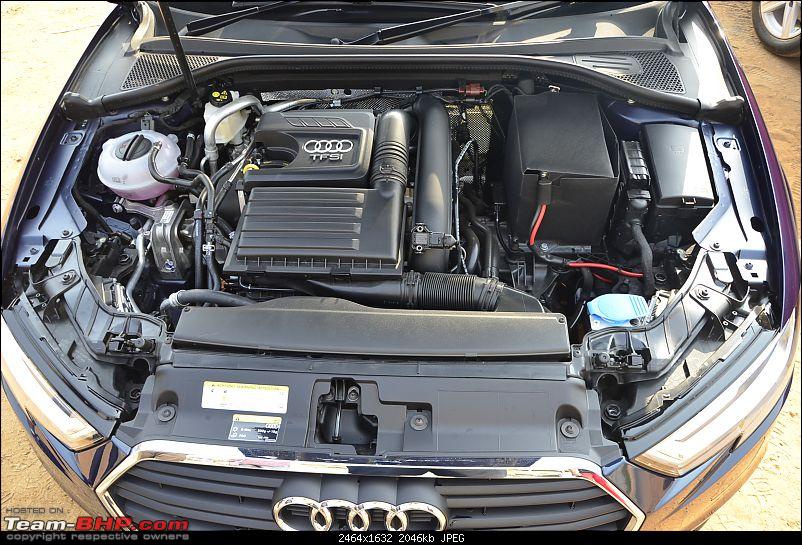 The biggest USP of this motor is the 'cylinder-on-demand' tech, which turns off two of its cylinders when the aggression is not required (during city driving), primarily for fuel efficiency (19.2kmpl). And when you need power and are in a mood of flooring the pedal, all four cylinders come into action.
2017 Audi A3 Facelift can sprint from 0-100 km/h in 8.2 seconds, which is exactly 0.9 seconds slower than the 1.8L model. In order words, we can say that the facelifted A3 is 'quick' while the older car was 'Fast'. However, the 1.4L mill is certainly not slow either.
The diesel engine, on the other hand, is the same 2.0-litre TDI (143PS/320Nm) unit and is coupled to a six-speed DSG automatic transmission.
2017 Audi A3 Facelift Technical Specifications
Audi A3 35 TFSI – Petrol (30.50 lakh ex-showroom): Displacement – 1395 cc, Max Power – 150 hp @ 5000 – 6000 rpm, Peak Torque – 250 Nm @ 1500 – 3500 rpm, Transmission – 7-Speed S tronic, Claimed Mileage 19.20 kmpl
Audi A3 2.0L TDI – Diesel (32.30 lakh ex-showroom): Displacement – 1968 cc, Max Power – 143 hp @ 3500 – 4000 rpm, Peak Torque – 320 Nm @ 1750 – 3000 rpm, Transmission – 6-Speed S tronic, Claimed Mileage 20.38 kmpl.
Mercedes-Benz CLA remains 2017 Audi A3 Facelift's prime opponent in India. Moreover, when you consider its price tag, the A3 sedan also goes up against the BMW 1 Series, Volvo V40, and Mercedes-Benz A-Class.