Rosewater can be considered to be the cheapest and the most efficient natural product that everyone should add to their beauty and skin care regime. After all, the oldest known beauty queen Cleopatra also had this wondrous item stuck in her regime.
Now, who won't want to incorporate such miraculous item in their vanity, which is also too cheap to let go off. Plus, we're from India, where an item like rosewater can be easily found and is mostly present in abundance because of our nani-dadi ka pyaar in it. If you're still not well-versed with all the beauty benefits of this magic potion then congratulations, we're are here to your rescue. We decided to gather all the beauty benefits that this water contains and offers to its users.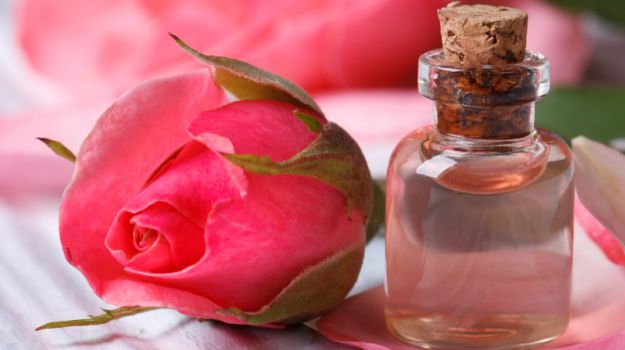 1. Rosewater helps in maintaining the pH balance of the skin which makes the skin more youthful and glowing.
2. It's considered a great product to get rid of acne, eczema, redness of irritated skin and dermatitis.
3. Rosewater works as a great cleanser in order to remove excess oil and clean clogged pores.
4. Due to all the anti-bacterial properties that this product possess, it works great for the healing of cuts, wounds and scars.
5. It's considered a great toner to use before going through your skin care and makeup routine.
6. Rosewater is said to be very helpful in maintaining the youthfulness of skin and it also keeps wrinkles and fine lines at bay.
7. Rosewater hydrates, revitalise and moisturise the skin.
8. It helps one in preventing dark circles and puffiness around the eyes.
9. Rosewater is also a great substitute to all those costly and chemical induced eye cleansers. It also helps in achieving that cooling effect in eyes.
10. It can be added in various homemade face masks for the cooling as well as revitalising effect on your skin.
All these benefits can make anyone cross over the bridge and reach this majestic land of rosewater infused skin care routine which is your one stop solution to all problems.
20th February 2017
Jyotsna Amla